Fishing the River Tawe
Our holiday cottages are located in Cilybebyll near Pontardawe, a mile from the River Tawe, which runs down the Swansea Valley from its source in the Brecon Beacons National Park to the sheltered waters of Swansea Bay. It attracts heavy runs of migratory fish.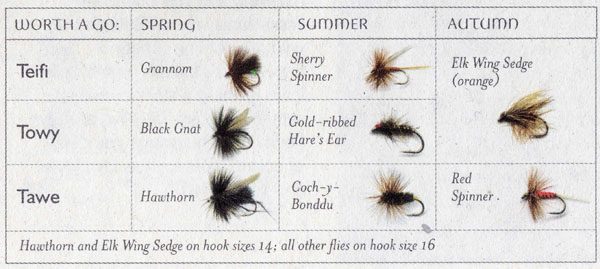 The upper reaches provide all-action trout fishing in glorious surroundings. Stocked brown trout supplement plenty of natural brown trout that rise freely to duns through the spring and terrestrial insects during summer and autumn. With lightweight tackle, battling quarter-pound wild trout give great sport in the hills  but be prepared for much bigger trout in the Tawe's middle reaches.
The whole of the River Tawe is open to those on a fishing holiday through permits issued by two angling clubs, The Tawe and Tributaries Angling Association and the Pontardawe and Swansea Anglers Society.
Fishing Permit: The Upper Tawe
The main river and tributaries (some 25 miles of fishing in all) are in the hands of the Tawe and Tributaries Angling Association and day tickets are available from a number of local shops and pubs near our fishing holiday accommodation. Salmon and Sea Trout (Sewin) may be caught from mid-March to mid-October. The season for brown trout extends from 3rd March to 30th September. Fly fishing and spinning are permitted, although anglers fishing the Tawe and Tributaries Angling Association waters are only allowed to use centrepin reels for spinning. A 24hr Senior Pass costs £16.00, a Senior Weekly Pass costs £48.00. The Tawe and Tributaries Angling Association runs its own brown trout hatchery and rearing pond complex (during 1997, stocked waters with over 15,000 brown trout measuring from 9-18 inches).
Fishing Permit: The Lower Tawe
Pontardawe and Swansea Anglers Society has a stretch on the River Tawe from Pontardawe to Morriston, where brown trout, sea trout and sewin may be caught. The final stretch of the Tawe, between Morriston Weir and Swansea Barrage, is a free fishing area requiring only a rod licence.
The Tawe Tributaries
Those who prefer the smaller more intimate rivers may prefer to fish in one of the Tawe's tributaries, the Twrch, Gwys, Llynfell, Giedd, Lech, Gurlais and Cwm Du for salmon, sea trout, brown trout and eels (trout are stocked regularly up to 3lbs). The upper reaches of the River Tawe are outstandingly beautiful.
From the Rivers Rheidol and Ystwyth in Ceredigion, down through Pembrokeshire, around the Gower Peninsula and across to Bridgend's River Ogmore, the River Tawe is the heart of 'Sewin Country'. More sea trout are caught in West Wales than anywhere else in the UK; and for really big sewin – fish weighing over 12lb – these rivers are quite unrivalled.