Dog Friendly Cottages in Wales
Dog friendly cottages in Wales that boast private off-lead walks from the doorstep can be difficult to find so congratulations!  We offer you and your canine pal a range of services to help you enjoy a relaxing pet friendly holiday in Wales: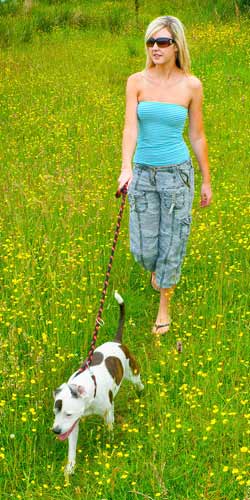 Private off lead walks from doorstep
Enclosed garden
Flexible approach to size and number of dogs
Dog friendly beaches nearby (all year)
Dog friendly outdoor seating area
Dog bowls, pet food fork, water bowl, emergency dog food all available on request
Freezer for pet food available on request
Spare lead, scoop bags and torch available for dog walking
Dog shampoo and towels available on request
Bucket, sponge and outside tap available for dog washing
Day kennels available nearby
Dog friendly place to eat nearby
Dog sitting and walking service available
Dog walk information available
Local dog grooming service available
Vet information available on request
At our self catering cottages near Pontardawe, we strive to provide the things that you as dog owners value whilst on holiday. Our farm trail has dog friendly styles and extensive areas where you can walk your pet without a lead including an oak woodland with mountain stream. Our accommodation is graded five star by Visit Wales and enjoys a secluded location within easy access of amenities. There is a 24 hour supermarket less than two miles away in the town of Pontardawe.
Why Dogs Love a Farm Cottage in Wales
There are lots of lovely smells at Plas Farm for your dog to enjoy – the nutty scent of squirrel at the base of a Welsh Oak, the sharp aroma of a sheep currant in freshly grazed grass or the simple whiffy must of an active mole hole – your dog's tail will not stop wagging at Plas Farm.  When you're not exploring the beautiful surroundings, you can relax in the luxury of our dog friendly holiday cottages.
Lovely lazy weekend " cottages very nice and comfortable. Weather quite hot! Found lovely walks for our dogs and good place to eat. The Clemett Family and greyhounds from the Vale of Glamorgan in South Wales.
Seeing South Wales With Your Dog
Its easy to go sightseeing with your four-legged friend from our cottages.  The Swansea Bay area is an ideal dog friendly holiday spot which appeals to city lovers as well as those who love the great outdoors.  Explore the dog friendly beaches on the Gower, splash through rivers in waterfall country,  play fetch on the cottage lawn before finally falling asleep in your pet-friendly holiday cottage. It will be the relaxing break you and your pooch have been pining for.