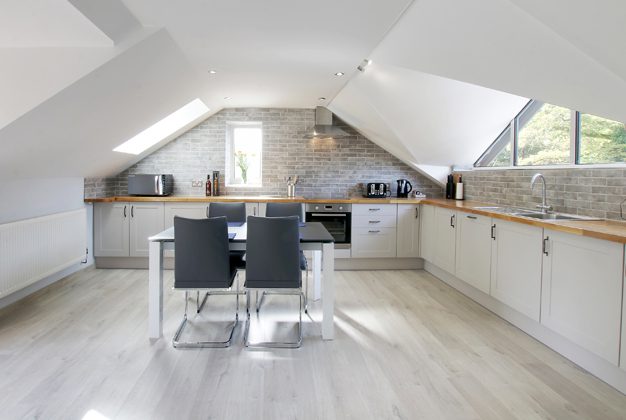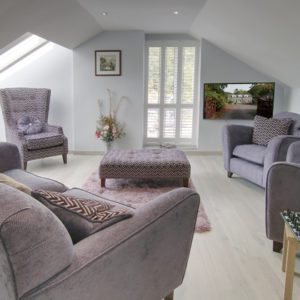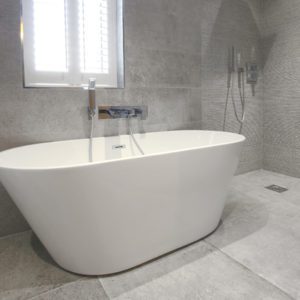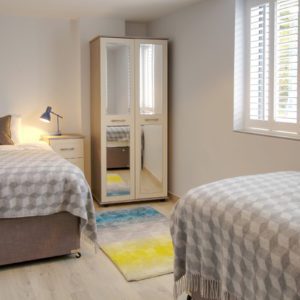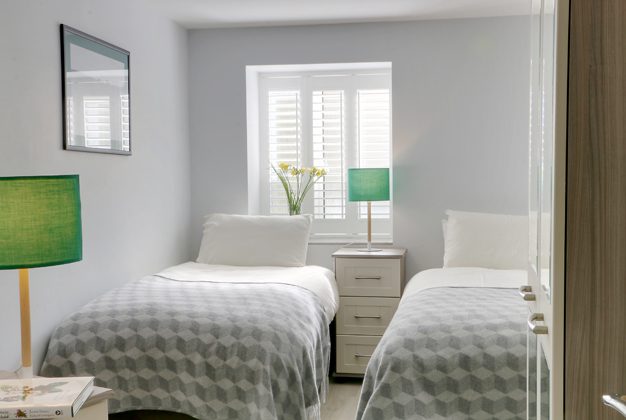 Ty Gambo – a family holiday cottage that is 'upside down'
Sleeps 6 – Prices and Availability
This luxurious modern family holiday cottage is 'upside down' with three bedrooms downstairs and an open plan living area and kitchen upstairs. Designed by award winning Rio Architects, it was once an estate cart house and its Welsh name Ty Gambo means just this. Guests love the combination of modern minimalism and historic features. There is even a magic tree built from stone in one of the walls.
'Upside Down' Family Holiday Cottage
The cottage is extremely cosy and comfortable – it is heated by renewable biomass and insulated with sheep's wool.  Seeing as it was used as a shearing shed prior to its conversion, we felt this was only right. The spacious master bedroom looks out onto the old farmyard and its rustic buildings.  Modern furniture is complemented by a section of exposed blue pennant sandstone wall.  A stunning contemporary wet room with stand alone bath, waterfall tap and rainfall shower separates a twin and twin/double bedroom at the opposite end of the cottage.
Upstairs is open plan.  A large kitchen with seating for six leads into a large living area with sofas and comfortable seating, woodland views and a HDTV with Freesat.  Guests love to sit in the reading chair which is situated in front of the roof-to-floor window to relax and watch goings on at the farm.  This is a great place to peruse our legendary information folder with all its suggestions of places to visit and things to do. There is also an upstairs WC. The kitchen has views of a remarkable 19th century ramshackle concrete outbuilding –  Grade 2 listed for its special architectural interest as an extremely rare example of the use of concrete for building construction.  Guests love to watch swallows swooping in and out of the building during the summer months.
The cottage has its own private sitting and parking area directly to the rear.  This is where the wall with the enchanted stone tree may be found, next to the BBQ. The cottage is stylish, modern and well equipped whilst retaining the historic atmosphere of the ancient estate to which it belongs.
The cottage features Welsh themed artwork by prominent artists.  A display coffee table is filled with centuries old artefacts and curiosities found by metal detectorists at the farm over the years.  A highlight is an old button featuring a raven which was part of an army of ravens that protected a Welsh Prince of the dark ages from whom previous owners of the farm claim descent. This story is told in the Welsh medieval Tales of the Mabinogion and depicted in an art print by famed Lord of the Rings illustrator Alan Lee which hangs in the living area of the cottage.
Guests to Ty Gambo have access to over a hundred acres of private grounds including the popular Plas Farm Trail which starts right on the cottage doorstep! A short farm road leads along the bank of the picturesque River Clydach and into a private bluebell woodland.
Cottage with Modern Amenities Nearby
This self catering holiday cottage enjoys a peaceful secluded location with modern amenities very close by. There is a 24 hour supermarket just over a mile away in the town of Pontardawe. Why not arrange for a delivery to coincide with your arrival? Mobile phone signal is good and there is a great gastro pub in the neighbouring village of Alltwen.
The city of Swansea is 10 miles down valley and the M4 motorway to London is just 10 minutes away from the holiday cottage – although you would never know it!